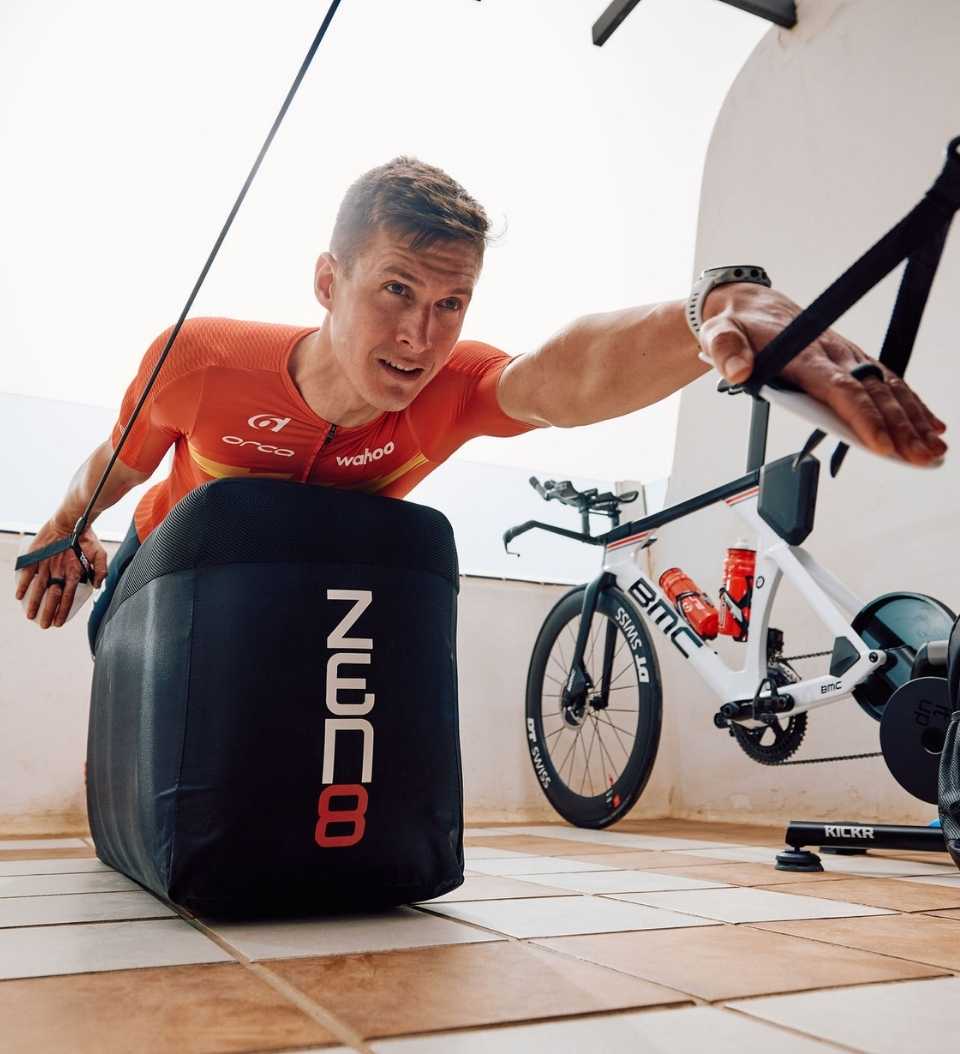 The training tool you've been missing out on.
ZEN8 is your secret weapon to speed and confidence in the water. Whether you're training to smash your next triathlon or just looking to overcome fear in the open water, this is the most time-efficient and effective way to improve your power, endurance, and technique.
Builds muscle memory & boosts your speed
Improves body position & stroke dynamics
Maximize propulsion & minimize drag
When you train with ZEN8 you can easily focus on key aspects of your stroke without any distraction. Improve your catch and power up your pull through and you will see improvements in a matter of weeks!
It can do even more than building muscular endurance and technique for your stroke. It was designed to fire up your core so you can take your streamlined body position to the next level. This results in you swimming Faster and Further than ever before — with less effort, in less time!
The Dryland Swim Revolution is Here.
The Swim Trainer that makes it easy to be consistent and stick to your workout routine.
Perfect for training anywhere, anytime
FREE 14 day swim training plan included
Easy set up, no drilling needed
This is no ordinary gym bench or a typical wide and squishy yoga ball. It's the secret weapon of anyone who wants to exceed their personal best!
The ZEN8 Dryland Swim Bench allows you to do a wide range of swimming exercises, and upper body strength in the comfort of your own living room or anywhere you travel. It is perfectly imbalanced to activate your core muscles and body control. Train in a swim-like, and streamlined position that will translate to less drag in the water.
All of these while improving your swim pace, making you feel more comfortable in the water, and gaining the confidence you need to take on any challenge!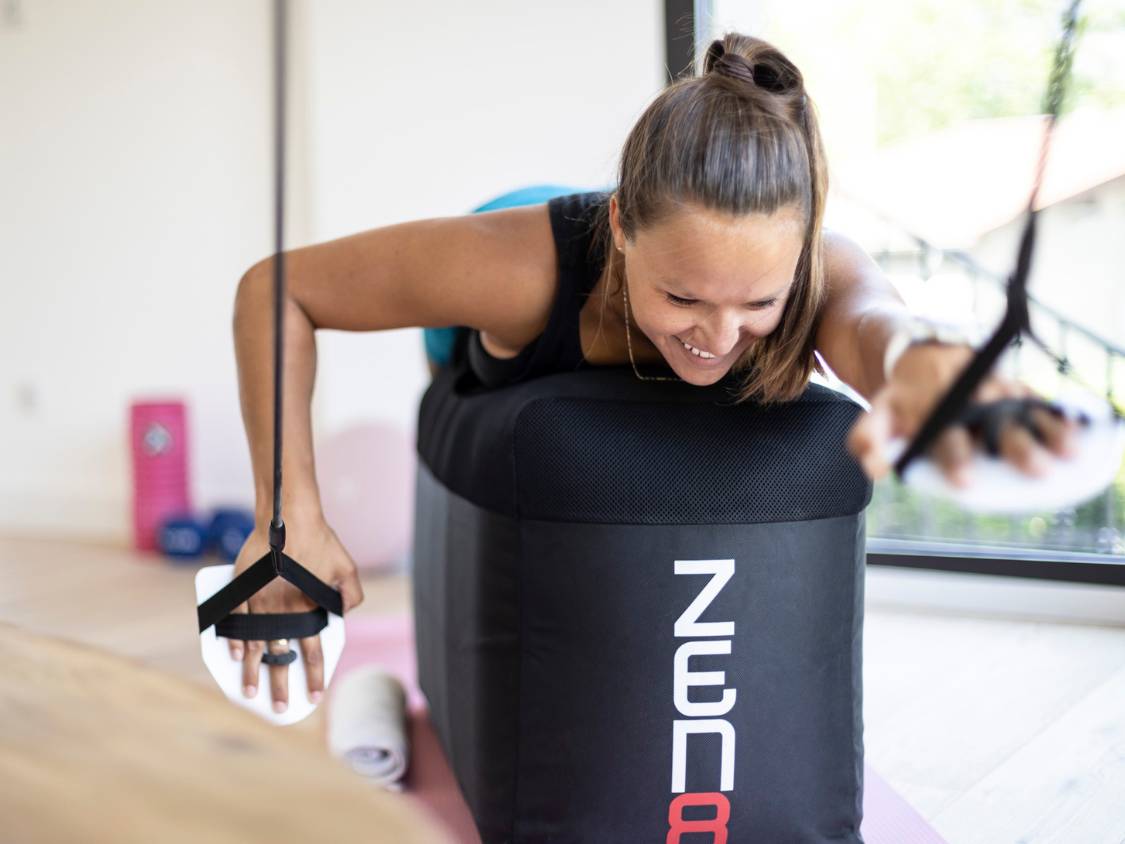 Boost your training & gain power.
Beat your swim time, break through plateaus, fight early fatigue, and increase strength with each ZEN8. session!
Maximize propulsion and endurance
Build immediate muscle memory
Master your early catch
Training with ZEN8 is a highly powerful method to improve balance and control over each movement, which will enable you to compete more effectively.
Quickly build the muscle strength and endurance you need to handle anything the water throws at you in your next big challenge and swim faster, stronger, and more confident! the water.
Bette S

Verified Customer

Helped A Lot

Although nothing replaces being in the water and trying to breathe, ZEN8 has definitely helped me improve my stroke and enabled me to slowly analyze exactly what I'm doing wrong with each portion of the stroke. It is helping me build shoulder strength and it is the best for, the price, to help with swimming when you can't get into the water. It stores easily and can be quickly set up and broken down and put away. I wish I had ordered ZEN8 months ago when I first saw it.
Building Muscle Memory

Enjoy swim specific training on days I can't get to the pool or I want to add a strength/swim/upper body workout to training. Trainer helps visualize the high elbow swim stroke and building muscle memory. Already have noticed a difference in the pool as I am more aware and able to notice my high elbow catch mechanics. More powerful stroke with just technique improvements.
Marco R

Verified Customer

Great for home training

I've introduced it as home-session when not going to the pool, in 2 weeks my catch and pull have improved dramatically and I've gained 12" on 100m laps. Can't wait to discover how much better I'll get in a few months!
A Must Have For Anyone Wanting To Improve Their Swimming.

As soon as I saw this, I was a sure that it was a must have item. Once I got mine and put it to use on the first day, I knew it was absolutely necessary to have in my arsenal of tools. As a former pro level triathlete, who took a long hiatus, I know what it takes to excel, and this is definitely fast forwarding my swim re-introduction journey.
Mike W

Verified Customer

Great product and even better customer service.

The ZEN8 swim trainer is exactly what it says on the tin and more. Like many triathletes, finding time to swim is not always easy while trying to balance work, family life and fitting in the other training hours that are needed to be fast. This does it all, it has meant that I have actually become a faster swimmer while swimming less. It's easy to fit a quick 20 to 40 minute session into the day before work or before an evening run or ride. The online workouts are effective and easy to follow, and you see the results quickly when you get in the water. It will help you develop your catch, pull and push phases of your stroke and depending on the workout, can increase you core strength. Also, the after sales service is A++. When I had an issue with a part, a quick email conversation was started and replacement sent.
Try it you won't regret it

Highly recommended, due to an old injury I was struggling in the water to finish o the swim stroke on my left side. However now able to do the same action on dry land controlled and not trying to stay a float has enabled me to push through this and I've already noticed my swim times improve a fraction but most of all the form feels way more controlled. I now notice I need to use it more!
Mummy P

Verified Customer

Brilliant aid for youth swimmer

I purchased this for my son (11) to work on his technique on the days he doesn't train. He trains 4 days a week, so uses this on the remaining 3 days. In the three weeks he has been using it, I have already noticed a faster pace, better arm technique, and he has noticed that he can swim stronger for longer.
Devin S

Verified Customer

Efficiency Maximized

Order, delivery and set up couldn't be easier. I was really impressed with the quality of the material out of the box. The initial inflation of the bench took some time, but it holds the air great. The free two week training plan and videos are really well organized and easy to follow. I can get in a swim and bike trainer session done in just over an hour. I highly recommend this product for people who don't have a swimming base or who struggle to get to the pool on a consistent basis.
Anthony G

Verified Customer

Great out of water training aid

As a lifetime swimmer, both competitive and recreational, pool and outdoor, I see this product as a useful development for out of water training. The innovation of the inflatable support bench is the key. This will become an invaluable tool for swimmers but I predict that Triathletes will see it as a training essential.
Try Risk-Free
Fast Results
You have nothing to lose - Try ZEN8 for 30 days risk free!
FAQ's
Who is the ZEN8 Trainer suitable for?
The ZEN8® Trainer is the perfect tool for anyone who wants to become faster, stronger and more confident in the water.
Any level Triathlete, Fitness Swimmer or Surfer will benefit from this easy-to-use tool. Swim and Strength & Conditioning Coaches looking to help their athletes to the next level love using the ZEN8® Trainer.

We are proud to be working with people of all ages, from beginners to PROs and even World Champions.

Save time, and get more training done.
Turn up confident at your next session.
WHAT IS INCLUDED AND HOW MUCH SPACE DO I NEED?
The ZEN8 Indoor Swim Trainer comes packaged in a box measuring 30x25x17cm and 3.4kg.

Depending on resistance wanted, an area less than 3.2m from the anchor point is needed. The Swim Trainer is designed to fit in small spaces.

In the box:
• Portable & Inflatable Swim-Bench - with Core Activation & Body Control Technology (13,8x19,7x31,5")
• Bench Cover - Antibacterial Mesh for comfort. Easy to wash.
• ZEN8 Swim Cords With Paddles - Level 1 (3.6 - 10,8kg / 8 - 24lbs) For Beginners - Pros
• Hand Pump & a mystery gift.
• FREE 2 Week Coaching Plan with on-demand videos and workouts.
how do i set up my new trainer?
Set up in less than 10 minutes.
NO drilling need, just attach cords to any strong fitting in your home.
Loop the bands around a door handle, or use the anchor in between a closed door or window. MAKE SURE THE DOOR IS PROPERLY CLOSED AND CAN'T ACCIDENTALLY OPEN.
Where do you ship from?
We ship daily from our fulfilment centres in the United States, Europe, and the United Kingdom and can ship worldwide in just a few days.

FREE & FAST delivery available in mainland US and UK, Germany, Belgium and Netherlands.

Rest of the world: Find shipping cost at checkout.

Grab your ZEN8® right now, and you can start training in days.
TRY ZEN8 Risk-free?
Yes, that's right! Try this weapon in your own home, office, or wherever you want to use it, completely risk-free.

If you don't love it within 30 days, send it back to us for a full refund including the return cost.

(We will also refund return costs if you live in mainland UK, EU, or the USA.)

Ready to transform your swim in weeks?