NEW BUNDLES
Join Our 10K+ Elite Swimmers
EVERY STROKE, EVERY SESSION COUNTS
Boost Your Performance with ZEN8
START TRAINING NOW
PERFECT START
8 Plans • 50+ Workout Videos
SAVE 49%
Effectiveness Guarantee
Fast & Free Delivery
BEST SELLER
8 Plans • 50+ Workout Videos
2 Gifts

waiting in cart

SAVE 49%
Effectiveness Guarantee
Fast & Free Delivery
BEST VALUE
8 Plans • 50+ Workout Videos
3 Gifts

waiting in cart

SAVE 56% Today
Effectiveness Guarantee
Fast & Free Delivery
PERFECT START
ZEN8® STARTER BUNDLE
8 Plans • 50+ Workout Videos
SAVE 49%
Effectiveness Guarantee
Fast & Free Delivery
BEST SELLER
ZEN8® OFF SEASON BUNDLE
8 Plans • 50+ Workout Videos
2 Gifts

in cart

SAVE 49%
Effectiveness Guarantee
Fast & Free Delivery
BEST VALUE
ZEN8®
ULTIMATE

BUNDLE
Limited Time Offer
8 Plans • 50+ Workout Videos
3 Gifts waiting

in cart

SAVE 56% Today
Effectiveness Guarantee
Fast & Free Delivery
✔️ 30-DAY RISK-FREE TRIAL - HASSLE FREE RETURNS & REFUNDS.
⏰ Bundles are time-limited and can't be combined with any other discounts.
SAVE

TIME & MONEY
If you value your time, then this is for you. Get your training done, and spend less time away from home.
FAST RESULTS.

GUARANTEED.
Catch more water with every stroke in days. You'll feel the difference in days when you put the work in.
ONE-OF-A-KIND

SWIM BENCH
The only Swim Trainer on the market that forces you to activate your core and build upper body swim power.
AFFORDABLE

DOMINANCE
Swim better for the price of a pair of sneakers...
BREAK THROUGH

PLATEAUS
ZEN8 in combination with in-water sessions will boost consistency and your results.
BUILT

TO

LAST
Your ZEN8 is built to last and offers a professional-grade workout experience.
Unlock Your Potential

In The Water
An easier way to train for swimming or surfing without having to go to the pool or ocean every day.
✅
Spend less time away from home and swim faster in weeks.
Training with ZEN8 is a fun, time-efficient and effective way to unlock your in-water performance.
JOIN THE
DRYLAND SWIM REVOLUTION
Join thousands of customers, including world champions and their coaches, who have already experienced the ZEN8 difference.

Now you can too! Invest in your performance today with the ZEN8 Swim Trainer and feel the difference in no time.
In combination with your current routine
Use when you can't make it to the pool or on flat days.
Train for just 15 minutes twice a week
Consistent training has never been easier.
Easy-to-use anywhere, anytime
Perfect for home workouts or training on the go.
THE SECRET SAUCE
DISCOVER THE

ONE-OF-A-KIND

ZEN

8

SWIM BENCH
PERFECTLY IMBALANCED
Core & Back Activation

Body position booster

Upper Body Strength
REPLICATE SWIMMING
Encourages a good catch

Improved Body position

Quickly Build Stamina
DESIGNED FOR SWIM TRAINING
Targets Swim Muscles

Better Body Control

Swim-like position
COMFORTABLE YET CHALLENGING
Reinforced Skeleton Structure

Antibacterial Mesh

Built to last
ZEN
8

in combination with in-water sessions = 🏊‍♂️💨


Swimming and surfing are demanding sports that requires consistent training to improve.

If you only train once or twice a week, your progress will be slow with limited progress.
Don't let that work go to waste, though.

With the ZEN8 you can finally fast track your training and see the results you've been working so hard for.
Try ZEN8 and increase consistency by 100%.

ZEN8 + In-Water Training

✅ Save time & train more
✅ No more missed swim workouts
✅ Quickly build power and endurance
✅ Faster progress & result
✅ 15 min is all you need on ZEN8

Swimming Alone

❌ Training takes too much time
❌ Missed workouts due to busy schedule
❌ Hard to build power and endurance
❌ Slow progress & slow results
❌ 2 hours of your day wasted for a 40 min workout


Shop ZEN8 Swim Trainer nowShop ZEN8 Swim Trainer now

Try risk-free for 30 days in your home
REAL

PEOPLE.
REAL

RESULTS

.
Perfect for fine-tuning swim technique and building strength
Using the Zen8 swim trainer regularly is a great way to fine-tune my swim technique without having to get to the pool every time. Being able to just do some short work on it more often, gives me the option to work on my swim lots more than I would have time to otherwise. The neuromuscular adaptation an muscle memory is so super important to actually see a difference in the water.
Great addition to my training
I used the trainer for over 2 years now and I can see the results. It helped me with my freestyle stroke and overall endurance.
I recommend it to newbies and people who doesn't have a lot of time but still want to improve their performance.
Absolute game changer for Swimmers
The ZEN8 has changed my swimming forever. My swim has always been my weakest discipline until I found the ZEN8. Incorporating it into my strength and conditioning training has changed my whole swimming journey. I'm faster, stronger and more confident than ever before. The ZEN8 took me from a + 2:00 min/100m swimmer to consistently be around 1:30 min/100. This was in the space of a few months. Massive time saver and convenient to use. Love it!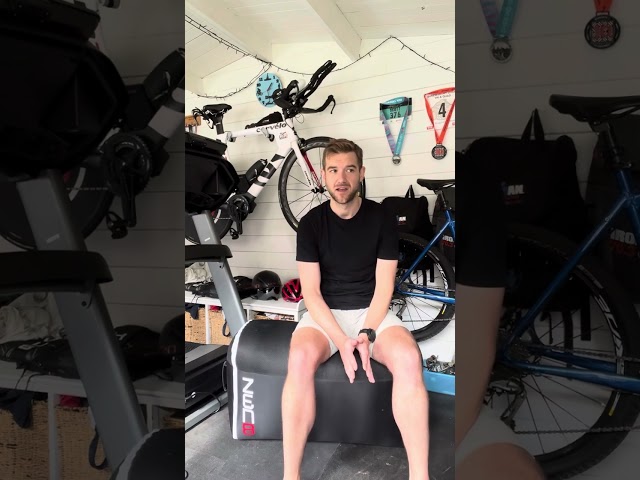 Zen 8 Swim Trainer
This thing is a game-changer and I can't recommend it highly enough. After 6 weeks, I took 3 mins off my swim time for 750m as part of a sprint triathlon. This also translated to faster bike and run splits as I wasn't burst by the time I got out the water. Other people are now commenting on how much faster I've become.
Anyone who's struggles trying to do swimming drills - I feel your pain! Using this device lets you hardwire the correct pull/push technique without the pressure of staying afloat! If you're wondering what knowledge base I have, I'm the Head Coach of a triathlon club.
EXCELLENT FOR BEGINERS!!!
IT'S SO USEFUL, I BOUGHT A SECOND ONE FOR THE OFFICE!! I WENT SWIMMING IN THE SEA YESTEDAY FO THE FIRST TIME THIS YEAR, AND IT SEEMED LIKE I'D BEEN SWIMMING FOR WEEKS ALREADY!!! THANKS, A GENIUS INVENTION, FOR A BAD SWIMMER LIKE ME!!
Gordon, this is fantastic to hear! We love that you got another one for the office, this is brilliant! And great to hear you feel good in the water early in the season. Keep up the hard work.
TRY ZEN

8

AT HOME. RISK-FREE FOR

30 DAYS
Rated 4.6/5 with 10,000+ happy customers
TRY ZEN

8

AT HOME.
RISK-FREE FOR

30 DAYS
Still sceptical? You can train with your ZEN8 Swim Trainer at home for 30 Days and then make a decision. With over 9000+ people who loves training with their ZEN8 we are confident to let you try it risk-free for 30 days.
You'll love the results, just like them!
VERY

frequently asked questions.